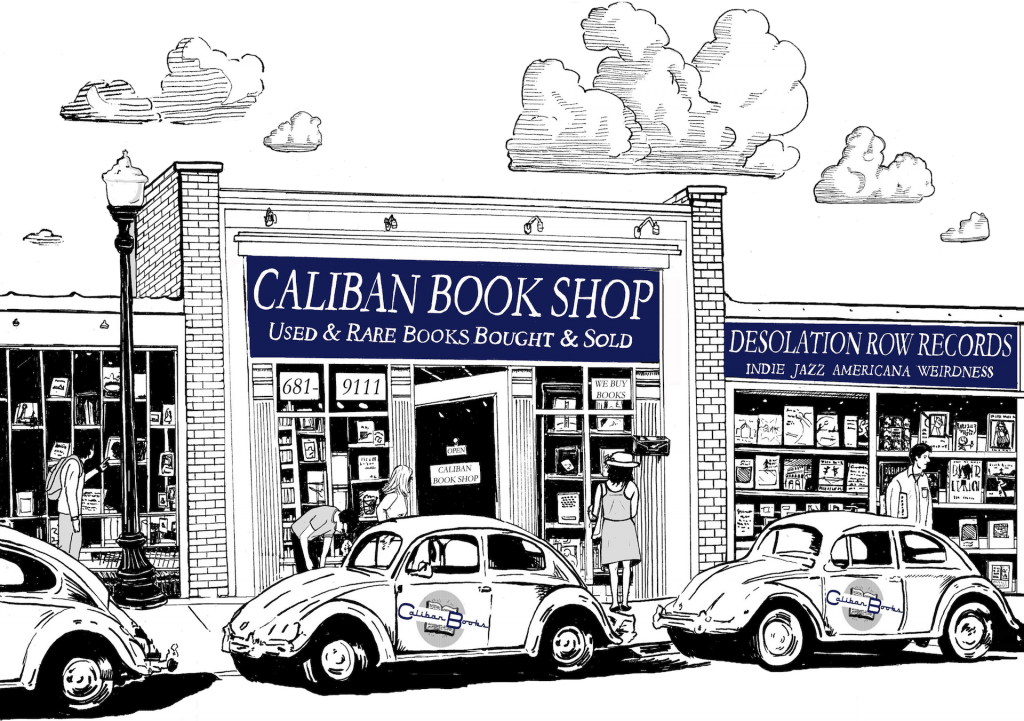 NEWS & EVENTS
Did you know? Caliban is open seven days a week, 12-5:30pm!
HAPPY HOLIDAYS! Oakland has lots of elbow room now that most of the students have embarked on holiday travel. And the shop is busy-busy with gift givers!
Many people are calling to ask about Gift Certificates. We offer them in any amount you care to buy, we have paper and digital options, and you can pay over the phone or online via invoice. A digital gift certificate is an excellent choice for last-minute Christmas shoppers, and it can be emailed to you, the buyer, or directly to the recipient. Please call or email us to arrange a Gift Certificate. (412) 681-9111 or calibanbooks [at] gmail [dot] com.
In the interest of keeping covid transmission rates to a minimum, we strongly encourage masks for browsers inside the shop.
Stop by the shop, no appointment needed! Private browsing appointments are available upon special request for those with health needs. Email us directly to reserve a time slot.
We're still fielding books requests, taking remote payments, and doing curbside pickups by request. Click here to learn more about the steps we're still taking to mitigate COVID-19 spread, including shop policies and customer safety precautions.
Thanks to a partnership with Bookshop.org, Caliban Books now offers customers a way to have new copies of the books you want to read or gift (that we might not have in stock) delivered to your door. We have curated Book Lists to help readers discover something new and are happy to facilitate requests for specific titles. Ask us about custom lists–for reading, research, gift-giving, book clubs, or course requirements.
A portion of every sale made through our page at Bookshop.org goes to Caliban, and we thank you for your support during these unusual times. More information about exploring Caliban on Bookshop.org can be found here.
For anyone seeking to fill background shelves for a film, play, or photo shoot, you should know about our new Book Rental Program! Click here for more info.
We are still looking at your books in-store and making house calls—both by appointment. Please call or email us to make arrangements.
You can learn more about our buying and selling policies on the About Us page.
---
---
Caliban Books buys and sells used and rare books for readers and collectors. We choose our books with care and avoid bestsellers, romance novels, and the like. Our prices tend to be 25% lower than online sellers, and we have a basement full of paperback fiction, mysteries, science-fiction, all priced way below retail. Learn more about our buying and selling policies on the About Us page.
Our shop also has a corner devoted to record albums and CDs; specializing in Indie Rock, Sixties Pop, Punk, Americana, Folk, Blues, and Jazz. We'll be adding Spoken Word and some Classical to the mix, too.
Although Caliban Books no longer lists books for sale online, you can check out what's new around the shop on our New Arrivals page.