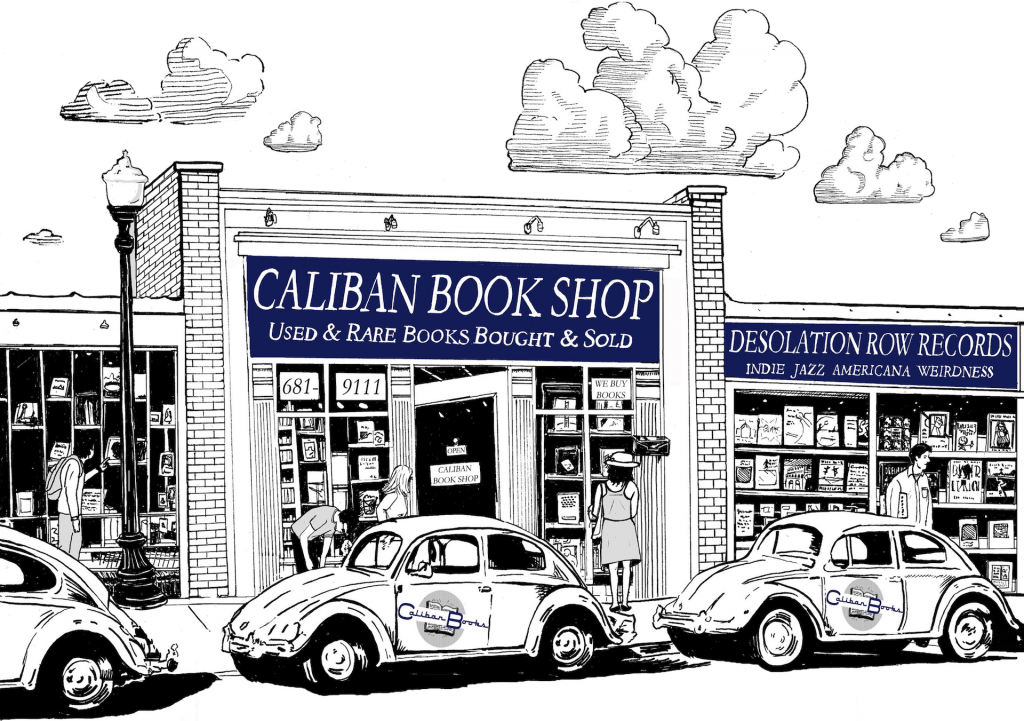 Welcome to Caliban Book Shop! We buy and sell books, autographs, photographs, printed material, and original art. In our shop, you'll find a great selection of books in all fields for readers, collectors, and the intellectually curious. We carry everything from quality paperback & hardback fiction, poetry and philosophy, to scholarly & uncommon books in many fields. We also carry local authors & zines.
For those of you looking for our online listings, we no longer do that. But some of our old stock can be found online under new ownership & management here.
Our shop is also home to Desolation Row, a small, independent record store specializing in Indie Rock, Sixties Pop, Punk, Americana, Folk, Blues, and Jazz owned and operated by Kristofer Collins. Desolation Row also carries a small selection of new books on music and pop culture, as well as essential literary titles. Don't see what you're looking for? We special order new vinyl, CDs and books in all genres. Contact desolationrowcds@yahoo.com and check out the Desolation Row Facebook for updates on new releases.
We choose our books with care and avoid bestsellers, romance novels, and the like. Our prices tend to be 25% lower than online sellers, and we have a basement full of paperback fiction, mysteries, science-fiction all priced way below retail.


Hours & Location
410 South Craig Street, Pittsburgh, PA 15224
412-621-9111

Monday-Saturday 10am-5:30pm*
Sunday 12pm-5:30pm
*open most Thursdays until 8pm
We are located in the Oakland neighborhood of Pittsburgh, a brief stroll from the Carnegie Museum of Art, Carnegie Natural History Museum, Phipps Conservatory, Carnegie Mellon University, and the University of Pittsburgh.
Call ahead if you have questions about hours, books in stock, our purchasing policies, etc. (412) 681-9111. Need directions?